What is ADAPT?

ADAPT (Antitrypsin Deficiency Assessment and Programme for Treatment) is a non NHS funded research programme and has been established by researchers who have an international reputation for their research into the causes of emphysema, in collaboration with the pharmaceutical company Bayer.

ADAPT's mission is to rapidly collect important information about how AAT deficiency affects you and your family. In addition to being helpful to you in understanding the effects of AAT deficiency on your lungs, this information will be critical to the design of clinical studies of the effects of treatment of the disease.
Finally, ADAPT will provide an information service to you and your relatives to explain how AAT deficiency influences you, your health, and your lifestyle.

ADAPT News is an occasional booklet which gives information about the disease, research and treatment. Back copies are available from the ADAPT office, contact details below.
ADAPT Newsletter November 2011 Issue
Now Available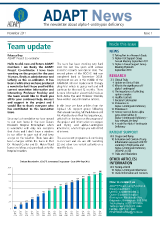 The Patient Community

Being a patient under ADAPT means that you meet other patients. There is an alpha-1 "community" in which patients support each other in friendship, sharing information,supporting research and so on.

Further information can be obtained:
Robert A. Stockley MD, D.Sc ., F.R.C.P.
Professor in Medicine
Mrs Rebecca Bray
ADAPT Project Co-ordinator
Dr Anita Pye
ADAPT Clinical Trials Co-ordinator
Please Note: We have moved.
New address and contact details from 20th November, 2010 as follows:

ADAPT Project
Lung Function and Sleep Department
Outpatient,Ground Floor
Queen Elizabeth Hospital Birmingham
Mindelsohn Way
Edgbaston
Birmingham
B15 2WB
Telephone No for ADAPT Co-ordinator: 0121 371 3885
Telephone No for Trials Co-ordinator: 0121 371 3886
Fax No: 0121 371 3887
Hospital switchboad: (0121) 627 2000
Site map of the new hospital available as download at bottom of page.
ADAPT patients will need to go to "Main Entrance Patient/Visitor (non- A&E & CDU)"
highlighted on the map in green and use the car parks nearby.