5th October 1951 – 30th January 2017
Our dear friend John passed away peacefully at home aged 65 and is survived by his wife Sheila and theirs sons, Paul, Darryl, and Ryan.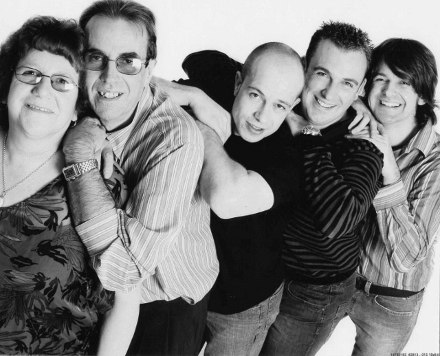 Sheila, John, Darryl, Paul and Ryan
John was diagnosed with Alpha-1 Antitrypsin Deficiency in 1999 after contracting double pneumonia.  Two years later he joined the Alpha-1 UK Support Group, became a member of the Committee in 2008 and was elected as Chair in 2010.  He was instrumental in establishing the Group as a Charity, initially in England and Wales and subsequently in Scotland. 
John was always passionate about utilising the internet to improve his knowledge about all aspects of Alpha-1.  He derived a great deal of pleasure and satisfaction from passing on that knowledge and from helping and supporting others in any way he could.  Improving the lives of Alphas became John's mission.  He was a committed and tenacious patient advocate – supporting Alphas and their friends and family became a full-time role for him.  He built the group's social media presence, regularly shared relevant information and news and was the communications centre of the charity.
John was a very private man and didn't want anyone outside of his personal circle to know how ill he had become.  His selfless dedication is further demonstrated by the fact that, still hours before he passed away, he was still messaging group members and supporting them to the very end.
John had a passion for music – he was a part-time musician playing in a band up and down the country for 30 years.  His "Song of the Day", which he posted on the Group's Facebook page, was eagerly awaited by our members.  His last Song of the Day, posted on 29th January 2017, was aptly "I want to know what love is", by Foreigner – aptly, because the tributes received in John's memory have demonstrated how loved he was within the Alpha-1 community, not just in the UK but internationally, due to the kindness, support and professionalism he showed to all, even at times of great personal suffering. 
John will be greatly missed – we would like to thank his wife Sheila, and his sons, for sharing him with us.
Ceremony:
 Wednesday 15th February 2017 at 3.15pm
 The Willow Chapel, Crownhill Crematorium, Milton Keynes, MK8 0AH
 Wake:
 The Inn on the Lake, Mount Farm Lake Bond Avenue, Bletchley, Milton Keynes, MK1 1PA
 Please wear bright colours to celebrate John's life.
 Family flowers only, donations are welcome to www.alpha1.org.uk or sent c/o H.W. Mason & Sons, 97 Victoria Road, Bletchley, MK2 2PD