A message from Connie Storey our alpha cousin in Washington State
You have sent out your message on the internet and it has floated into our line of sight.
We read it and we recognize that we know you.
You have said the magic words that bind us together…
Alpha 1 Antitrypsin Deficiency
Here in this part of the internet we know what that means and we are ready to pull you close and call you sister, brother, friend.
Here we know the secret passwords;
breathless, sleepless, frightened… disability. But, we know other things too.
We know that life is often more beautiful and rewarding when we are made to consider that we won't live forever.
We know that there are friends who are always watching for your message to appear and when you call out, cry out, casting your message wide over the internet those mysterious friends will reach out and speak. It will be like they are in the room with you and they know exactly what is happening with you. They understand.
Here, in our private home just off the busy streets of the internet you will find encouragement and knowledge. You will find that Alpha-1 is not an immediate death sentence nor the worst thing that ever happened to you.
Since this is a genetic condition we all pretty much feel that we are related… cousins, siblings, long lost relations. Ask us anything at any time.
We are here for you

Linda Cooke
D.O.B. 30-10-1950
Alpha lung PiZZ (diagnosed 1992)
I have Emphysema, Sarcodiosis, Pulmonary Fibrosis, some bronchiectasis, and am on Oxygen therapy 24/7. I have since had a double lung transplant on the 4th May, 2009. I have two adult children, my son is PiMZ, and my Daughter is PiZZ.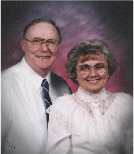 Jim & Carol Hosley
My name is Jim Hosley and I am an Alpha. I live in a small town in "upstate" New York, USA called Pine City.
I am 61 and am married for the 2nd time to Carol (24 years next month).I have 3 children from a previous marriage.
I was first tested for Alpha 1 in June of 1997.
When my testing was done the results said I had a serum level of 2.4 micromoles/liter and a phenotype of PIZZ.
During the "Sheep Juice Study" I had more testing done.
My phenotype and genotype have been done and the results are that I am a PIZMmalton. The Mmalton is a quite rare gene and is as deficient at the Z gene. I have been told they have traced the Mmalton gene to Sardinia… I did not know I had any Italian blood in me but… genes don't lie.
I have been retired from the Postal Service since October, 2003. When working I had half a dozen lung infections every year.
199 Snowburg Road, Pine City, NY
14871 USA
Tel 607-734-1148
a1adjim@earthlink.net

Chris Torrance
My name is Christine Torrance (usually known as Chris) and I was born on April 7th 1946. I was diagnosed a PiZZ Alpha with emphysema in 1998 following many years of breathing problems. Until then these had been diagnosed as asthma.
Even though I now have supplementary oxygen therapy 24/7, I am still fairly active. Of course, I have had to adapt my lifestyle in some ways but I am still able to enjoy life. I am divorced. I live in the beautiful city of York and I have two MZ sons. My eldest son Grahame unfortunately died following a motorcycle accident in 1991 at the age of 19. I mention this because he was an organ donor, a subject close to the heart of many an Alpha. He carried a donor card and we were aware of his wishes so the decision was his, rather than ours. Through his death, Grahame was able to give the gift of life to five very sick people. Who knows, some may even have been Alphas… something I had never even heard of at the time. Needless to say I am very proud of him.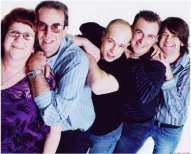 John Mugford
My name is John Mugford born 5th Oct 1951 married to Sheila (40 years) with three sons. Most of my family suffered with respiratory problems especially on my father's side which in those days was diagnosed as Asthma. I was no exception as were my sister and brother who were also diagnosed with asthma from childhood. During my late teens to late twenties in the 60's and 70's I smoked as did many others as it was the "in thing" to do. It was during this time that my breathing problems worsened and I contracted pleurisy. I was referred to a specialist in 1978 and was diagnosed with early signs of Emphysema, the consultant said to me if I continue smoking I would be dead before I reach 50. Well, that was the wake up call I needed and fortunately I managed to stop smoking immediately. However, the problem did not stop there, my part time profession was a musician in a cover band playing in clubs and pubs up and down the country which lasted for 30 years and, you've guessed it, the dreaded passive smoking continued to make my condition worse.
In 1999 I contracted double pneumonia and was in hospital for a week and off work for 2 months after which I had a follow up visit with my consultant. I had various blood tests and was asked to return for the results where I was told I had A1AD. My consultant went on to explain about, rare condition, genetics, blood disorder and damage to lungs etc which at that time did not really sink in as I am sure it doesn't with most people. I took note of what I was diagnosed with and decided to surf the net which confused me even more as there was not much information available then and what I did manage to find was far too technical to understand.
Two years went by and after much confusion and surfing I came across the Alpha-1 UK Support Group which I joined and looking back it was the best thing I ever did. The support from this group was outstanding and I learnt so much more from them than I did from any GP or Consultant. Shortly after I joined this group I was referred to Professor Stockley at ADAPT in Birmingham who specialises in A1AD and it was confirmed that I had the more severe form of the condition PiZZ. My wife was also tested and she was normal PiMM which meant that all our three sons were carriers PiMZ.
In 2004 I contracted pneumonia again with a further stay in hospital and another 2 months off work. My health was deteriorating to the extent that I was finding it difficult and sometimes impossible to continue with my job working as a senior manager for a Japanese electronics company involving world travel. In the interest of my health I decided I had no choice but to make the biggest decision in my life to give up work which I did on the 1st of January, 2006 after much consideration and many sleepless nights.
Since giving up work I have been involved in drug trials at ADAPT and in 2008 I joined the Alpha-1 UK Support Group committee, later in 2010 I was elected Chairman which now keeps me fully occupied and I enjoy immensely. Although my health has deteriorated in recent years, with the help and support from my family and the Alpha-1 UK Support Group, I have learned to live with my condition and still remain positive.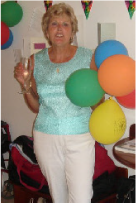 Norah Oliver
D.O. B. 21.7 1946
Alpha I Lung , PI ZZ.. Diagnosed 1999
I have emphysema and severe asthma and I use oxygen on a supplementary basis.
Married to Bob, who is PI MS. We have one daughter aged 33 who is PI MZ. Two grandchildren, phenotype not known.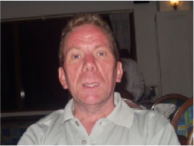 Keith White
My name is Keith. I am married to Sally and we have one daughter – Claire, and we live in Watford.
I was diagnosed alpha in 1996. I had a lung reduction in 2000, sadly, not very successful.I was medically retired from the buses after 20 years in 2003, although I didn't think so at the time it was the best thing to happen to me. I try to keep fit by going to gym 2 or 3 times a week and I also enjoy reading, golf (when my scooter's working) and am a West Ham season ticket holder.