26 Mile Marathon Fundraising Swim raises money for Alpha-1 UK Support Group Charity

Congratulations and a big THANK YOU to Marianne Mullen for completing her Marathon fundraising swim.
Here is what Marianne had to say: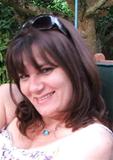 "I'VE DONE IT AT LAST!!! 🙂 I've Completed my 26 mile swim and survived! Thank you for taking the time to look at my JustGiving page and for all your generous donations. It has been a good journey with lots of kind encouragement. I really have appreciated your support and your generous funds will play a big part in helping raise awareness and finding medical solutions to this condition for future generations. You have all helped to make a difference.

Thank you x :)"
"As an ex international springboard & highboard diver I have led a very active lifestyle, so it was a big shock to discover that I should be affected by a condition such as this. Whilst I am still relatively fit (!), my intention was to complete a marathon swim over the summer months (26 miles in total). Without the Alpha 1 support group and ADAPT programme there would be no support structure or monitoring of this condition in the UK. Through their tireless campaigning, more is being found out about this genetic condition, and more GPs are becoming aware of it. The Alpha 1 support group relies on the generous donations of

20th September, 2012