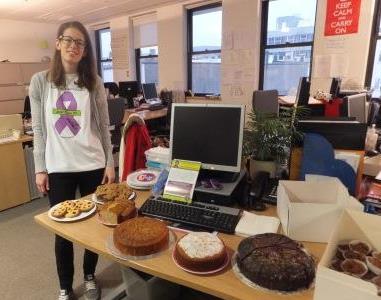 A BIG THANK YOU to our Alpha-1 UK Support Group Regional contact in Jersey Nicola De Freitas for organising a cake sale dress down day on Friday 29th November raising awareness and funds for Alpha-1.
Nicola said "I am trying to raise money for Alpha-1 UK Support Group in memory of my Dad, who had the Alpha-1 antitrypsin deficiency.
Dad was diagnosed with having Emphysema, five years later we then discovered that he was also Alpha-1 deficient. We had no idea what this was and were only advised this meant he had no protection in his lungs or liver as he was deficient in this AAT gene. Dad was hoping to go on the transplant list as he had been having tests at Harefield and was due to go back one more time but he caught a chest infection and was admitted to hospital where he caught pneumonia. Having alpha-1, he had no protection in his lungs and due to this severe exacerbation, this resulted in him being taken away from us.
When Dad was diagnosed 7 years ago, there was not much information given about AAT, apart from advice that we had to also be checked for this as it is hereditary. The condition was never discussed again throughout Dad's regular check ups at the hospital. Maybe Dad would have had a better chance to fight the infection if at the time of diagnosis of AAT, he had been given more information on it and maybe a possibility of support or treatment that could have possibly helped.
I believe that it is very important to continue to research into this and hopefully there is a treatment one day to help."
Donations can be made to Nicola's JustGiving Page: