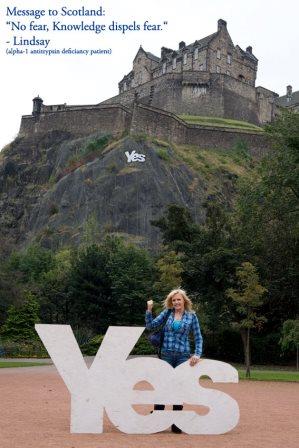 A Highland mother-of-five with just 24% lung capacity has climbed a steep rock face at Edinburgh Castle to place a huge Yes sign in full view of thousands of people.
Climber Lindsay Jarrett, 42, of Kinlochleven in Lochaber, posted pictures of herself online tightly gripping the famous edifice as she made the gesture.
Her climb was organised by a group called Independence Climber, who timed it to coincide with the busiest weekend of referendum campaigning, prior to the vote.
A spokesman for Independence Climber said: "No damage to the castle or surrounding area – night-time ascent and a successful one."
Earlier this year Ms Jarrett also voluntary removed her name from a donor waiting list, despite needing a lifesaving lung and liver transplant.
She did it to raise awareness of the genetic condition that is killing her – alpha-1 antitrypsin deficiency, which affects her lungs and liver.
Her lung capacity now stands at 24% of what it should be and she has to be constantly attached to bottled oxygen.
The single mother decided to put her hoped-for treatment on hold and is rock climbing up and down the UK from April to September to highlight the Alpha-1 UK Support Group and to raise money for Climbers Against Cancer.
She is hoping her efforts will inspire her children, Ciara, 25, Jemma, 17, Mia, 10, Rory, 7, and six-year-old Findlay, who are all carriers of the condition. All except Jemma are now suffering the symptoms.
Her latest, and most adventurous, protest, was lauded by supporters on the Independence Climber social network page.
One comment said: "Oxygen on her back, tubes getting up her nose, she climbed 60 metres (200ft) in the dark just to say she was not frightened.
"How can Scotland not succeed with girls like this? Her Yes shone a sparkling light over Edinburgh today."
Another cause close to her heart is the preservation of Ben Nevis and its environs, which led to her being outraged when a group of students cemented a bench to the summit.
Source: Aberdeen Press & Journal 16/09/2014 (Article)

Source: Andrew R Moore (Photo)