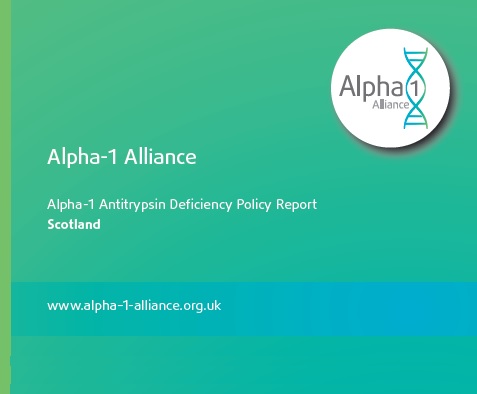 The Alpha-1 Alliance today released its policy report on the current level of care for Alpha-1 patients in Scotland. The report draws upon the findings of a survey of Scottish Alpha-1 patients, relatives and carers conducted by the Alliance in 2013 – the first of its kind in Scotland. It highlights both the high level of unmet medical need for Alpha-1 in Scotland and how, despite high levels of existing expertise in the condition, patients are all too often let down by poorly coordinated and inefficient service provision.

In response to these findings, one of the report's main recommendations is the creation of a multi-disciplinary nationally commissioned specialist service for Alpha-1. This service, the report concludes, would be instrumental in ensuring uniformly high levels of care for Scottish Alpha-1 patients.
The publication of this report constitutes a major milestone in the Alliance's campaign to raise awareness of Alpha-1 and the unmet medical need that patients experience, and to improve care and treatment for the condition in Scotland.
The Alliance will be discussing the report's findings and recommendations with those affected by the disease, politicians and senior Alpha-1 clinicians at a seminar at the Scottish Parliament on the 19th of November 2014.
The policy report can be accessed and downloaded here
The details of the parliamentary seminar are as follows:
Wednesday 19th November, 6-8pm
The Fleming Room
The Scottish Parliament
Edinburgh EH99 1SP
If you would like to attend and haven't signed up yet, please register by contacting the Alpha-1 Alliance at info@alpha-1-alliance.org.uk or by calling 020 3021 1627 by the 12th of November.