Mark Pawsey MP raises awareness of rare illness in Parliament
Mark led the first ever parliamentary debate on Alpha-1 Antitrypsin Deficiency on 31st October 2018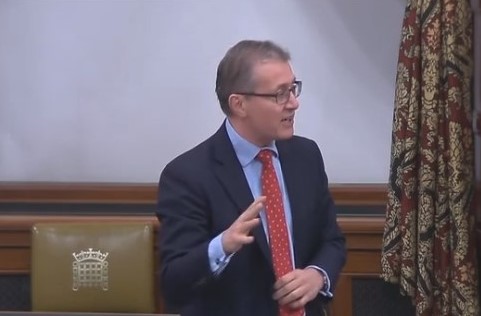 Rugby MP Mark Pawsey last week led the first ever parliamentary debate on alpha-1 antitrypsin deficiency, a rare hereditary illness which affects the lungs and breathing of those with this condition.
Alpha-1 antitrypsin deficiency is caused by a genetic abnormality which means that the protein alpha-1 antitrypsin, normally released into the blood to protect from inflammation, is instead trapped in the liver. This can not only cause significant damage to a patient's liver but also leads the lungs becoming vulnerable to pollutants in the air. In particular, those with alpha-1 are particularly susceptible and sensitive to cigarette smoke.
Symptoms of alpha-1 are often mistaken for asthma or chronic obstructive pulmonary disease, leading to the incorrect treatment which can lead to a patient's health deteriorating. Because of this, Mark has become a supporter of the Alpha-1 UK Support Group, which seeks to raise greater awareness of the condition and a delegation of alpha-1 patients visited Parliament to hear the debate.
Speaking after the debate, Mark said:
"Alpha-1 antitrypsin deficiency was first brought to my attention in 2012 by Sarah Parrin, when she attended my constituency advice surgery with her son, Stephen Leadbetter. Despite having presented symptoms of alpha-1 over eight years before, he had only just been formally diagnosed with the condition. That delay in diagnosis had real consequences for his health as he was growing up, and demonstrates the scale of the challenge facing patients with alpha-1."
Mark continued:
"After meeting with Stephen and Sarah, I resolved to find out more about this condition and met with Professor David Parr, who is a consultant respiratory physician at University Hospital Coventry and Warwickshire, and an expert in Alpha-1. From there, I have become a supporter of the Alpha-1 UK Support Group, which recently met in Brandon in the constituency. I am especially pleased that a number of those with alpha-1 were able to attend the debate and it was a great pleasure to meet with them and hear directly about how alpha-1 affects their day-to-day lives."
Mark concluded:
"I would like to thank the Nigel Adams MP, who spoke on behalf of the Government, for his supportive response although we all recognise that there is more work to be done. I particularly hope the Government will now ensure that the specialised NHS alpha-1 service which was due to be in place by April 2017 will be introduced as swiftly as possible. However, one of the most important things which all of us can do is be more aware of this condition and that is why I was delighted to have support from across the House during this important debate."
Professor David Parr, Clinical Director for Cardio-Thoracic Services and Consultant Respiratory Physician at University Hospitals Coventry and Warwickshire commented:
"I know from my experience of seeing alpha-1 patients from all over the country in our multi-disciplinary AATD service at UHCW that there needs to be greater awareness of this complex condition amongst healthcare professionals. I very much welcome Mark's continuing support of the alpha-1 community in their quest to obtain better access to optimal care."
Sandra Nestler-Parr, Trustee of the Alpha-1 UK Support Group added:
"Mark has been a strong supporter of the alpha-1 patient community in the UK for many years, and we are very grateful that Mark has brought the challenges faced by patients with alpha-1 antitrypsin deficiency to the awareness of a wider audience through last week's parliamentary debate."
The full transcript of the debate is available at: https://hansard.parliament.uk/Commons/2018-10-31/debates/D79EB4FC-284C-4B5F-8B68-0BFAAB302325/Alpha-1AntitrypsinDeficiency
Video of the debate is available at: https://www.markpawsey.org.uk/news/mark-pawsey-mp-raises-awareness-rare-illness-parliament