Alpha-1 Alliance meets Andrew Lansley MP to discuss need for a national service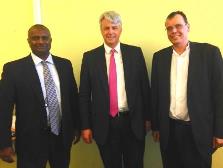 The Alpha-1 Alliance met with Andrew Lansley MP, former Secretary of State for Health, to discuss the need for the establishment of a highly specialised service for patients with Alpha-1 Antitrypsin Deficiency (Alpha-1).
Mr Lansley visited the Chair of the Alpha-1 Alliance, Dr Ravi Mahadeva, at Addenbrooke's Hospital in Cambridge to learn more about the current care provided to Alpha-1 patients and how it can be improved in the future.
Mark Bradford, a patient suffering from Alpha-1, also attended the meeting to share his experience of living with the disease with Mr Lansley.
Although Mr Lansley has left his former role of Secretary of State for Health and now holds the position of Leader of the House of Commons, he still retains a strong interest in health policy issues. Mr Lansley expressed his support of the campaign for better services for Alpha-1 patients in England and stated that he will help the Alliance to further clarify NHS England's process for new service applications.